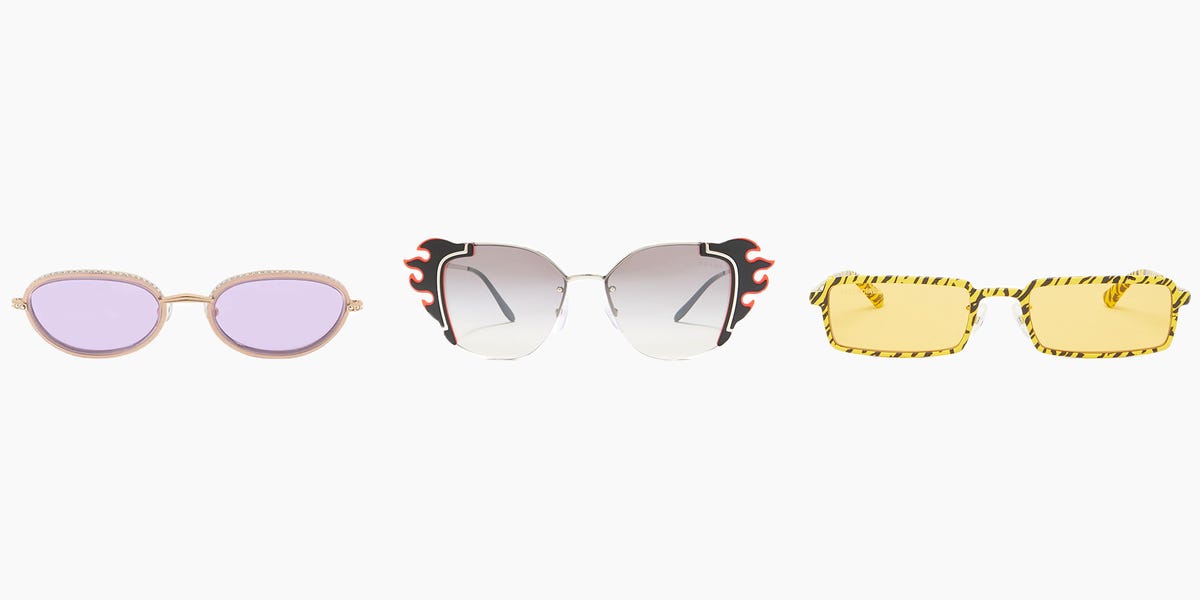 16 Designer Sunglasses On Sale Right Now
With their uncanny ability to make or break an entire outfit and completely alter how our faces look, the power of sunglasses is massive. Few, if any, accessories bring about more emotional attachment than a good pair of sunnies. (If you've ever lost a pair and ugly cried in public, you know exactly what I'm talking about.)
We know all too well how exhaustive the search can be to find the right pair, so to make things easier for you, we set out to find the chicest and most flattering styles on sale right now. From cat-eyes to aviators to avant-garde shields, we're pleased to share that we found jaw-dropping, coffee-spilling discounts. Ahead, the 16 best sunglasses you can score on sale right now from Linda Farrow to Prada to Oliver Peoples and more.
1
Eureka Cat-Eye Sunglasses
Le Specs
matchesfashion.com
$59 $17 (70% off)
Every it-girl from Meghan Markle to Hailey Bieber has been spotted in Le Specs. On sale right now for less than what a pizza costs in New York, these glossy acetate sunnies are a STEAL. They have 100% UV protection too. 
2
Zasia 53mm Cat Eye Sunglasses
Oliver Peoples
nordstromrack.com
$393 $74.98 (81% off)
Finding a pair of Oliver Peoples for under $200 rivals the rareness of stumbling upon a four-leaf clover in the middle of a desert. These burgundy, smoke-tinted beauties offer 100% UV protection and will be a compliment magnet for years to come. 
3
Isba 51mm Sunglasses
Oliver Peoples
nordstromrack.com
$471 $119.97 (75% off)
These rectangular frames are as close as it gets to  a universally flattering sunglasses shape. Understandably low in stock right now, we recommend making a bee-line to get these before they sell out.  
4
Liteforce Sunglasses
Ray-Ban
sunglasshut.com
$188 $94 (50% off)
If you're leaning into minimalism this summer, these Ray-Bans are right up your alley. We love how the matte finish is sleek but unfussy. 
5
Caite Decagon Sunglasses
Chloé
matchesfashion.com
$420 $168 (60% off)
The groovy '70s vibes coming from these rose-tinted sunnies make us want to (carefully) frolic through an open field while taking vintage Polaroid pictures. Crafted in Italy, we love this pair's uniquely bevelled details and soft pink acetate tips. 
6
59mm Aviator Sunglasses
Saint Laurent
nordstromrack.com
$435 $109.97 (75% off)
These contemporary aviators play just as nicely with white linen sundresses as they do with puffer coats in the winter.  No offense to shield shapes, but you can be certain these will outlast current fads.  
7
Irregular Cat Eye Sunglasses
Prada
nordstromrack.com
$445 $79.97 (82% off)
Editor's note: I've been obsessed with this pair of oversized cat eye sunnies for the last two summers and when I saw them marked down for $80, I nearly lost it before slacking my editor immediately. Avant-garde and flaming hot in a literal way, these will definitely sell out fast.  
8
Black Mask Sunglasses
Bottega Veneta
ssense.com
$395 $304 (23% off)
Shield-style sunnies definitely aren't for every face type and personality. That being said, if a cyborg feline lies within you, take these futuristic shades for a spin. 
9
Cat-Eye Acetate Sunglasses
Stella McCartney
matchesfashion.com
$232 $116 (50% off)
Cat-eyes never really went away, though the style has clearly been especially popular these last few seasons. Here, Stella McCartney gives a 1950s-styled silhouette a modern upgrade with rose gold chain link running around the frames.
10
Oversized Cat-Eye Sunglasses
Miu Miu
sunglasshut.com
$480 $240 (50% off)
If you're all about that large frame lifestyle, get these butterfly sunglasses while they're still half off. Our pick for proper paparazzi shielding.
11
Sarandon Scarf Sunglasses
Linda Farrow
matchesfashion.com
$436 $174 (60% off)
These beauties are named Sarandon after the similar sunnies Susan Sarandon graced us with in Thelma and Louise. Crafted in Japan, the pair features gold-tone metal rings on the arms, so you can tie a silk-twill scarf to evoke retro glamour. (Oh, and did we mention a Linda Farrow silk scarf actually comes with these too?)
12
Rectangular Tiger-Print Sunglasses
Balenciaga
matchesfashion.com
$380 $190 (50% off) 
Elephant in the room (no animal pun intended), we're living through some really bleak times right now. If you're yearning for something sunshiny, these tinted tiger-printed lenses are pure joy. 
13
52mm Round Sunglasses
Tod's
nordstromrack.com
$370 $74.98 (80% off)
Exuding subtle '60s vibes, these orange-tinted shades are a savvy choice for channeling Mad Men-era glam.
14
Linda Farrow Embellished Sunglasses
Area
luisaviaroma.com
$429 $343 (20% off)
We're pretty sure that fashion insiders willed this Linda Farrow x Area crystal-embellished collaboration into existence. (And we're thankful for it.) Get these for the selfies and cherish them because they belong in a museum. 
15
Squared Tortoise Sunglasses
& Other Stories
stories.com
$39 $19 (51% off)
Speckled with hints of magenta, yellow and green, these sunnies from & Other Stories are a refreshing take on tortoise. They're cute and classic, without compromising the balance in your debit account.
16
Celine Square Frame Sunglasses
Celine
glassesusa.com
$446.00
$558 $446 (20% off)
Timeless and glamorous, we love these square-shaped Celine lenses ahead of Leo season. PS: Use code PREMIUM20 to take an additional 20% off right now. 
This content is created and maintained by a third party, and imported onto this page to help users provide their email addresses. You may be able to find more information about this and similar content at piano.io
This commenting section is created and maintained by a third party, and imported onto this page. You may be able to find more information on their web site.